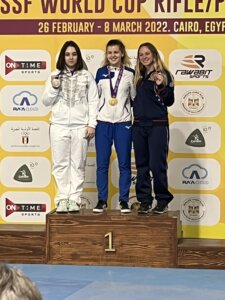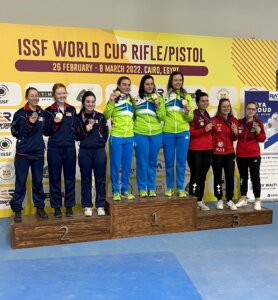 By: Brittany Nelson, USA Shooting Comms & PR Manager
Team USA rifle and pistol athletes left their mark at the 2022 Cairo Egypt, World Cup Feb 26 -March 8, bringing home a bronze medal in Women's 10m Air Rifle and a silver medal in Women's 50m Rifle 3 Position Team.
Ali Weisz, a specialist in the Army's Marksmanship unit, shot a 630.0 in the Women's 10m Air Rifle qualification round earning herself a spot in the finals. She went on to win the bronze medal, making this her second World Cup medal. Weisz won a silver medal at last year's World Cup.
"I think overall I had a really great performance at this World Cup, said Weisz, the 2020 Olympian and Belgrade, Montana, native. "There were a lot of really strong athletes there with some intense scores. I'm looking forward to the next competitions."
The Women's 50m Rifle 3 Position team, Mary Tucker, Sagen Maddalena, and Katie Zahn, also walked away with silver medals. They competed on the same range that the 2022 World Championships will be held at later this year.
"We had some outstanding performances," said Peter Durben, the USA Shooting National rifle coach. "The experience gained at this cup will help prepare us for the world championships in October."
All results can be found at www.issf-sports.org/competitions/venue/results.ashx?cshipid=3024.