By Brittany Nelson, USAS Public Relations & Communications Manager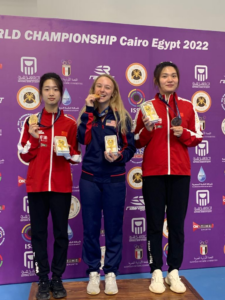 COLO SPRGS, CO (Oct. 14, 2022) – Alison Weisz earned the title of World Champion and a Team USA Olympic quota for Paris 2024 after winning the gold medal match in Women's 10m Air Rifle in Cairo, Egypt, Oct. 14, 2022.
Weisz, a 2020 Olympian, defeated Yuting Huang, from China, in a shot-for-shot final. Her last shot of 10.6x won her that coveted gold medal.
"I am so grateful to have been able to be named a World Champion and bring home our first (rifle) quota place for the 2024 Paris Olympic Games," said Weisz. "I am incredibly honored and am looking forward to what the future has to bring."
The Montana native is now currently ranked 12th in the world for 10m Women's Air Rifle.
Weisz went on to win a silver medal with Mary Tucker and Sagen Maddalena in the 10m Women's Air Rifle Team.
Weisz, a soldier in the Army Marksmanship Unit, is no stranger to the international competition scene. She won a bronze medal at this same range and in the same event earlier this year at the 2022 Cairo World Cup, as well as two bronze medals at the 2022 Rio De Janeiro World Cup, one for 10m Mixed Team Air Rifle and another in Women's individual 10M Air Rifle. She also earned two silver medals at the 2021 New Delhi World Cup, one for 10M Women's individual Air Rifle and the other in 10M Women's Air Rifle Team.
The U.S. National Rifle Team member isn't done with the 2022 World Championship just yet. Weisz will compete with Will Shaner in the 10m Air Rifle Mixed Team event Oct. 17