By Brittany Nelson, USAS Public Relations & Communications Manager
COLO SPRGS, CO (April 13, 2023) – Elizabeth Probst, of Brady Texas, earned the title of 2023 Women's Smallbore Junior Olympic Champion, April 11.
Probst earned gold at USA Shooting's 2023 National Junior Olympic Shooting Championships, held at the U.S. Olympic & Paralympic Training Center in Colorado Springs, Colorado.
"That was my first ever smallbore final and my mindset going into it was to just have fun and do the best I can," said Probst. "It felt really good to win. It was a big relief."
Probst was one of 118 athletes from around the country shooting for the title. Probst qualified for the finals alongside seven other competitors.
"The final was really fast, so it was nerve racking but also exciting," said Probst. "Right before shooting standing position my heart was going crazy. I had time, so I told myself to just take ten seconds and just breathe."
Lauren Hurley, who shoots for the U.S. Air Force Academy, joined Probst on the podium with a second-place finish and Katie Zaun, who shoots for Texas Christian University, finished third.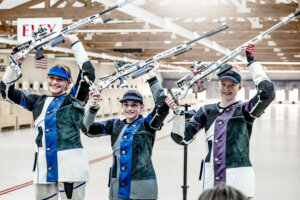 Probst began shooting in fourth grade with a local 4-H club. The first competition she ever shot in was a USA Shooting Winter Air Gun Championships two years after picked up the sport. Probst made her international debut at the 2022 International Shooting Sports Federation (ISSF) Junior World Championships in Cairo, Egypt.
Medals were also awarded for in the following categories:
Women's Under 18: Alivia Perkins, gold; Carley Seabrooke, silver; Gracie Dinh, bronze.
Women's Under 15: Martha Simpson, gold; Karlie Lynn, silver; Shannon Moriarty, bronze.
See full results here: https://usashooting.org/app/uploads/2023/04/Womens-3×20-FINAL-RESULTS.pdf
The competition also decided the Women's Smallbore team for the 2023 ISSF Junior World Championships in Changwon, Korea, July 14-18. The following athletes qualified: Elizabeth Probst, Alivia Perkins, Katie Zaun, Lauren Hurley, and Katrina Demerle.
Men's, Women's, and Paralympic 10m Air Rifle is the next event for the 2023 National Junior Olympic Championships. Men's Smallbore Rifle will follow air rifle.
Purchase photos of the event here: http://bit.ly/3obe2U5
View awards ceremony photos here: https://bit.ly/3H1nnVt