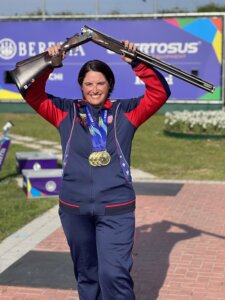 By: Brittany Nelson, USA Shooting Comms and PR Manager
Caitlin Connor earned three gold medals at the infamous Lonato World Cup, April 19-30, in Women's skeet, Women's Skeet Team, and Mixed Skeet Team, a first for USA Shooting.
"It feels really cool [to have a gold medal sweep]," said Connor, the 2018 Women's Skeet World Champion. "I have been working hard the past few months, waiting for it all to come together. I was really happy that it happened in Lonato."
Her win in Women's Skeet marks her first individual first place World Cup medal. She beat Great Britain athlete, Amber Hill, in the gold medal match with a score of 37.
The Lonato, Italy, competition is known as the biggest World Cup according to Connor, hosting more countries and athletes than any other World Cup locations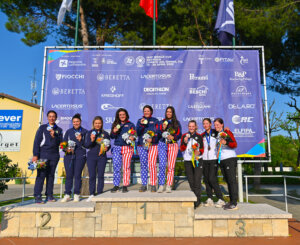 "The way Italy supports shooting is a big deal," said Connor, a seven- time 2022 World Cup medalist. "Shooting in Italy is like baseball in America; everyone there loves it."
Of her gold medals, Connor secured the gold in Women's Skeet Team along with Amber English, 2020 Gold Olympic Medalist, and Dania Vizzi, two-time gold medalist at the 2022 Lima World Cup.
"I would not have been able to get those golds if it weren't for my teammates," said Connor, the Winnfield, Louisiana native. "We have a really strong team, and it was awesome to be a part of it."
Connor won her gold in mixed skeet with Vincent Hancock, the 2022 Lonato World Cup men's skeet silver medalist.
The duo earned first place despite the fact they have never shot together as a team in any competition.
Up next for the shotgun team is the Baku World Cup, May 27- June 7.
All official results can be found at: https://www.issf-sports.org/competitions/venue/results.ashx?cshipid=3028