By Brittany Nelson, USAS Comms and PR manager
USA Shooting's junior shotgun athletes earned six medals at the ISSF Junior World Cup in Suhl Germany, May 9-20.
In the Men's Team trap event, Lance Thompson, Matthew Kutz, and Emilio Carvalho earned gold. Lance Thompson also earned silver in the Men's Individual Trap and Sydney Krieger won bronze in Women's Individual Trap.
In skeet, Julia "Lia" Nelson walked away with the gold medal in the Women's Individual event and Mikena "Grace" Fulton earned fourth place. Jordan Sapp, Benjamin Keller, and Aidin Burns topped the podium by winning gold in the Men's Skeet Team event.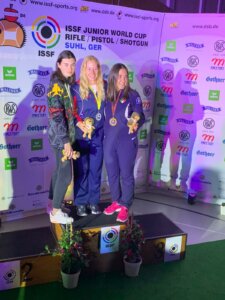 In the Mixed Skeet Team bronze medal match, Nelson and Sapp faced their own teammates, Keller and Fulton. Nelson and Sapp went on to earn their second medal by securing bronze.
All official results can be found at: https://www.issf-sports.org/competitions/venue/results.ashx?cshipid=3024
Up next for the junior shotgun team is the ISSF World Championships in Osijek, Croatia, Sept. 19- Oct. 25.