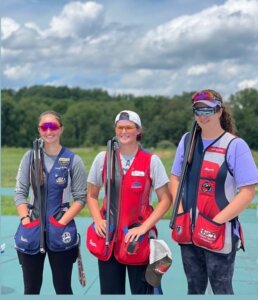 By Brittany Nelson, USAS Public Relations & Communications Manager
COLO SPRGS, CO (Aug 1, 2022) – Over 100 junior shotgun athletes competed in the 2022 Junior Olympic National Championships at the John A. Halter Shooting Sports Center in Hillsdale, Michigan, July 25-31.
In the first half of the competition, the Junior Olympic Trap National Champions were crowned. Sydney Krieger, from Arizona, and Sam Blevins, of Kentucky, took home gold for overall women and men respectively.
After a shoot off, Kaleigh Castillo, from California, took home silver in overall women's trap and Abbey Wigh, from Florida, took home bronze.
In the overall men's trap category, Lance Thompson, of Pennsylvania, took home silver and Matthew Kutz, from Texas, earned bronze.
Kaleigh Castillo, Abbey Wigh, Sam Blevins and Tony Meola earned JO Squad positions on the Trap Team as the highest finishers not already on the Junior National Team.  Haidyn Stewart, Jacenta Jacob, Josh Corbin and Samuel Woodall earned JO Skeet Squad positions.
In skeet, Lia Nelson earned the title of National Junior Olympian, taking home gold for the overall women's category. Benjamin Keller also took home this title in the overall men's category.
The other medalists for overall women's skeet are Madeline Corbin, from Wisconsin, who took home silver, and, Fayth Layne, from Tennessee who earned bronze.
For men's overall skeet, Joshua Corbin earned silver, and Samuel Woodall took home bronze.
In the foreign visitors category, Ricardo Rodriguez, of Peru, earned gold, and Gunindera Singh, of Canada, won silver.
Medals were also awarded to the top three male and female finishers in under 15, under 18 and collegiate categories.
Medalist results are as follows:
Trap
Women's U18
Gold- Carey Garrison (TN) 109
Silver- Micaela Velasquez (TX) 103
Bronze- Kamea Herrera (WA) 102
Men's U18
Gold- Tony Meola (FL) 117
Silver- Eyan Marx (WI) 112
Bronze- Kaleb Horinek (UT) 111
Women's U15
Gold- Gracie Shoaf (NC) 84
Silver- Esther Cui (AZ) 55
Bronze- Anne Tichotsky AK) 37
Men's U15
Gold- Ajay Jarrett (CA) 107
Silver- David Hall (UT) 100
Bronze- Bryan Holtkamp (FL) 93
Collegiate Women
Gold- Aiko Bianca Coloso (FL) St. Petersburg College 108
Silver- Chantry Stermer (NM) Jacksonville University 106
Bronze- Marian Zerby (FL) University of Alabama Alabama 106
Collegiate Men
Gold- Emmanuel Butdorf (OH) Jacksonville University 116
Silver- Jack Nelson (ID) Concordia 111
Bronze: Camron Burks (AL) University of Tennessee Southern 109
Skeet
Women's U18
Gold- Haidyn Stewart (GA) 111
Silver- Mikena Grace Fulton (AZ) 104
Bronze- Karsyn Ross (TX) 102
Men's U18
Gold- Aidin Burns (TX) 116
Silver- Jarrod Croley (KY) 111
Bronze- Westley Kiter (NC) 111
Collegiate Women
Gold- Jacenta Jacob (MI) Macomb CC 109
Silver- Emersyn Berck (KS) Kansas State 108
Bronze- Jessi Griffin (GA) Chattahoochee Tech 108
Collegiate Men
Gold- Alex Ahlin (SC) University of South Carolina 116
Silver- Matthew Brindley (IA) William Penn University 114
Bronze- Kyle Fleck (MI) Hillsdale College 113
Find all official results here.
View photos of the event here.