By Brittany Nelson, USAS Public Relations & Communications Manager
COLO SPRGS, CO (Aug. 10, 2022) – The 2022 Shotgun National Championships concluded with skeet Aug. 1-6, at the John A. Halter Shooting Sports Center in Hillsdale, Michigan.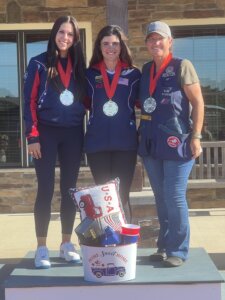 Vincent Hancock, from Texas, earned the title of Men's Skeet National Champion. Connor Prince, also from Texas, won silver, and Christian Elliot, of Indiana, earned bronze.
Katie Jacob, from Michigan, earned the national champion title in women's overall skeet. Dania Vizzi, from Florida, finished second, and Kim Rhode, of California, placed third.
In the overall junior men's category Ben Keller, from Colorado, came in first place, Joshua Corbin, of Wisconsin, came in second, and Kyle Fleck, of Michigan, came in third.
For the overall junior women's category, Julia "Lia" Nelson, of Minnesota, took home the gold, Mikena "Grace" Fulton, from Arizona, earned silver, and Jessi Griffin, from Georgia, won bronze.
In the foreign visitor's category, Luis Tuto Bermudez, from Puerto Rico, earned gold, Tsuki Yamamoto, from Japan, won silver, and Saud AL Saud, from Saudi Arabia, earned bronze.
Medals were also awarded to the top three male and female finishers in under 18, collegiate and senior categories.
Find all official results here.
View photos of the 2022 National Championships here.
The Skeet World Championship team has been named based off of scores from the national championships and the selection match held earlier this year in Tucson.
The Men's World Cup Skeet team consists of Vincent Hancock, Dustan Taylor, and Christian Elliott. The Women's Skeet team is Dania Vizzi, Sam Simonton, and Austen Smith.
The Trap World Championship team was named after their nationals concluded in July. The men's trap team members are Derrick Mein, Will Hinton, and Jake Wallace. The women's trap members are Kayle Browning, Aeriel Skinner, and Rachel Tozier.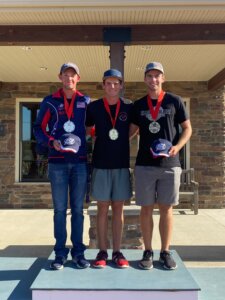 The Junior World Team was selected previously from the Tucson Selection Match and the Kerrville Match in March.
Junior World Championship Skeet Team Members are Aidin Burns, Ben Keller, Jordan Sapp, Mikena "Grace" Fulton, Julia "Lia" Nelson and Alishia "Fayth" Layne.  Junior World Championship Trap Team Members are Emilio Carvalho, Lance Thompson, Matthew Kutz, Ryann Phillips, Sydney Krieger and Chantry Stermer.
The 2022 Shotgun World Championships will be held Sept. 19- Oct. 12, in Osijek, Croatia.
To support USA Shooting's athletes on their journey to worlds, visit https://fundraise.givesmart.com/vf/WORLDS.