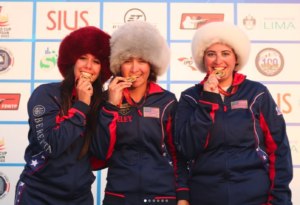 By: Brittany Nelson, USA Shooting Comms & PR Manager
The U.S. Shotgun team left the Lima World Cup, March 27-April 7, with a grand total of 11 medals, topping their seven-medal performance at the previous World Cup in Cyprus.
The athletes crushed the newest World Cup event, three-person teams. Both the trap teams won gold, Rachel Tozier, Aeriel Skinner, and Kayle Browning for the women's, and Derrick Mein, William Hinton, and Casey Wallace for the men's. Also finishing first was the women's skeet team, Dania Vizzi, Austen Smith, and Caitlin Connor, who faced an Italian team in the finals, a repeat of their Cyprus match.
"To finally beat an Italian team was really cool," said Vizzi, a 2019 PanAm Games bronze medalist. "The three-man team is the most fun event for us."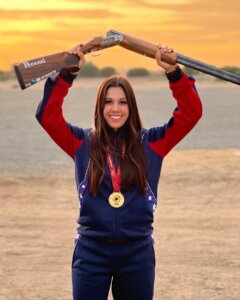 In women's individual skeet, Vizzi picked up another gold medal, followed by Smith who won silver, and Connor who placed fourth.
"It is still kind of surreal to me," said Vizzi, a Tampa, Florida native. "It is so cool to stand on the top of the podium again."
In the mixed skeet teams, Austen Smith and Dustan Taylor earned a silver medal, the first international medal for Taylor, and Connor and Hayden Stewart earned bronze.
Stewart, a soldier in the U.S. Army's Marksmanship unit, also took home bronze in men's skeet, his first individual World Cup medal ever.
"It was amazing I was in disbelief," said Stewart, a Columbia, Tennessee native. "I am happy I was able to fight through my mistakes mentally and never give up."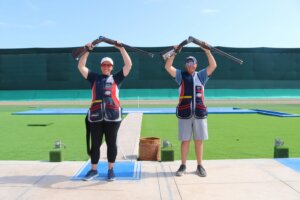 Kayle Browning and Derek Haldeman also left Lima with hardware when they won bronze in the mixed trap team. Browning went on to earn silver in women's individual trap as well.
Another first-time international medal winner, Derrick Mein, won bronze in men's trap.
"How do you even out into words what we did here," said Jay Waldron, National Shotgun Coach. "Eleven medals at one cup is an amazing accomplishment."
Up next for the shotgun team is the Lonata, Italy, World Cup, April 19-30.
All official results can be found at: https://www.issf-sports.org/competitions/venue/schedule.ashx?cshipid=3026