By Brittany Nelson, USAS Public Relations & Communications Manager
SANTIAGO, CHILE (Oct. 24, 2023) – Vincent Hancock, three-time Olympic gold medalist, earns gold in Men's Skeet at the 2023 Pan American Games Oct. 22 in Santiago, Chile, making him a three-time Pan American Games Champion.
"It feels really awesome, it really does," said Hancock who was the U.S. flag bearer at the Pan American Games opening ceremony alongside Jordan Chiles.
Hancock, an Eatonton, Georgia, native who now resides in Fort Worth, Texas, secured his spot in the finals after shooting a perfect 125/125 targets in the qualification round. His flawless score set a new qualification Pan American Games record and tied the qualification world record.
The four-time Olympian bested Federico Gil, of Argentina, in the final with a score of 57, a new Pan American Games finals record. The record was previously set by Christian Elliott in 2019. Before competing in the men's finals, Hancock watched the Women's Skeet finals where teammate Dania Vizzi earned fourth place overall.
"I got to see some of the targets in the women's finals and it prepared me to know that there would be unexpected things happening," said Hancock. "There was a lot of curling going on with those flash targets. I knew what to do. I just needed to go out and execute. I would have liked to hit every single one of them, but I did the best that I could."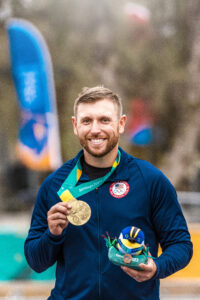 Hancock, four-time World Champion, mentioned that after dropping two targets in the finals, he knew what changes to make in order to hit the rest of the clays. He attributes his experience coaching to helping him realize what mistakes he has made and being able to adjust them so quickly during the competition.
"I get to see what happens, especially with athletes I have worked with for long periods of time. They shoot very similarly to me," said Hancock. "I have to diagnose them, and it helps me diagnose myself a lot faster too. There's lot of things that go into it, but I have been doing this for a really long time so I know my body well and what I need to do to get the desired outcome."
Hancock earned his first Pan American gold back in 2007 at the Rio Games and his second in 2011 at the Guadalajara Games. He mentioned that he had a lot of fun competing and that Chile did a great job hosting the event.
"It has been 12 years exactly since I have been to the last (Pan American Games)," said Hancock, 23 time World Cup medalist. "Pan Ams was my first experience with something like the Olympics. I always look at this as being a great prelude to what can happen at the games."
Hancock went on to win gold in the Mixed Skeet Team event Oct. 23 with Vizzi. The duo ousted Mexico with a score of 41. Hancock and Vizzi were accompanied on the podium with teammates Austen Smith and Dustan Taylor, the Mixed Skeet Team bronze medalists.
Up next for Hancock is the U.S. Olympic Trials part two in March of 2024 in Tucson, Arizona. This match will determine the 2024 Paris Olympic Shotgun Team.
"For me, the only thing that really matters coming up is the selection (match)," said Hancock, who won his first Olympic gold medal at just 19 years old.
"I need to win the selections in March," said Hancock. "For me, I need to win the whole thing. I don't care about finishing second. I just need to go win the competition. If I do that then I'm on the team. Then the next step (would be) preparing myself for the months leading up to the Games so that I can peak there and be at my best.
USA Shooting's Pan American Medal count is at nine as of Oct. 23. Medals were earned by the following:
Vincent Hancock: Gold, Men's Skeet
Sagen Maddalena: Gold, Women's 10m Air Rifle
Mary Tucker: Bronze, Women's 10m Air Rifle
Rylan Kissell: Silver, Men's 10m Air Rifle
Henry Leverett: Bronze, Men's Rapid Fire Pistol (secured the U.S. an Olympic quota for Paris)
Rylan Kissell & Mary Tucker: Gold, Mixed 10m Air Rifle Team
Sagen Maddalena & Gavin Barnick: Bronze, Mixed 10m Air Rifle Team
Vincent Hancock & Dania Vizzi: Gold, Mixed Skeet Team
Dustan Taylor & Austen Smith: Bronze, Mixed Skeet Team
USA Shooting athletes will be competing in rifle, pistol, and shotgun events through Oct. 27. View live scores here: https://results-santiago2023.org/#/discipline/SHO/schedule/daily
Follow @USAShooting on social media for competition updates and results.