By Brittany Nelson, USAS Public Relations & Communications Manager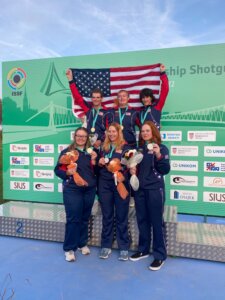 COLO SPRGS, CO (Oct. 12, 2022) – The Junior Skeet Team earned a grand total of three titles at the 2022 Shotgun World Championships in Osijek, Croatia, Oct. 2-5.
Benjamin Keller, from Colorado, was crowned the Junior Men's Skeet World Champion after winning the final match with a golden hit.
Keller went on to help Jordan Sapp, who shoots for the Hillsdale College shotgun team, and Aidin Burns, of Texas, bring home gold for the Junior Men's Skeet Team. The world champions beat Finland in the gold medal match.
The Junior Women's Skeet team also took home some hardware after placing second in the finals. Mikena "Grace" Fulton, from Arizona, Alishia "Fayth" Layne, of Tennessee, and Julia Nelson, from Minnesota, earned silver by beating Slovakia.
Burns and Fulton competed together in the Junior Mixed Skeet Team and earned fourth place. Fulton also placed sixth overall in Junior Women's Individual Skeet.
Jordan Sapp made it to the semifinals in Junior Men's Individual Skeet, and ended up in a three-way tie for fifth place.
Open Skeet events are currently underway at the Shotgun World Championships. Follow @USAShooting for all the results and competition updates.