By Brittany Nelson, USAS Public Relations & Communications Manager
COLO SPRGS, CO (Sept. 29, 2022) – Derrick Mein earned the first Paris 2024 Olympic quota for USA Shooting and was crowned the 2022 Men's Trap World Champion.
Mein, a 2020 Olympian, secured the first Paris 2024 Olympic Games quota for USA Shooting in Men's Trap once he earned his spot in the finals at the World Championship.
Mein went on to beat Nathan Hales, of Great Britain, in the gold medal match at the ISSF 2022 Shotgun World Championship in Osijek, Croatia, Sept. 28.
This is Mein's fourth World Championship title.  All four titles are in different shooting disciplines. His previous championship titles include 2016 FITASC World Champion, 2018 World All Around Champion, and 2019 ICTSF World English Sporting Champion.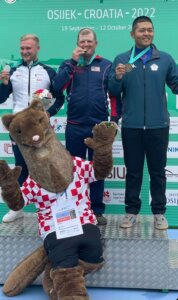 The last American to win an individual Men's Trap World Championship title was Kenny Jones in 1966 in Wiesbaden, Germany.
This brings USA's medal count at the 2022 Shotgun World Championships up to two. The Junior Men's Trap Team earned bronze prior to the start of open trap.
Mein will go on to compete with Will Hinton, and Casey "Jake" Wallace in the Men's Trap Team event and with Aeriel Skinner in the Mixed Trap Team event.
After the trap events conclude at the World Championship, skeet will start.
Follow @USAShooting for all the results and competition updates.